Dublin High Career Center and HUB partner to create community anthology
The world's understanding of unprecedented took new shape during the 20-21 school year. Covid-19 caused seismic shifts in every imaginable arena: global crises, national politics, and the day to day struggles of local communities were upended in the face of the virus. Even amidst more recent events of violence, it's difficult to comprehend tragedy when, for many students, it's become the new normal. 
In response, the Dublin High Career Center and HUB are partnering to create a thoughtful method of reflection: "Remembering 2020 & 2021: An Anthology". Beginning March 17, all Dublin High, Valley High, and Middle College community members will have the opportunity to contribute to a comprehensive anthology "[highlighting] both the big and little moments that Gaels and Dragons have experienced over the last year", according to the DUSD Anthology website. Participants are required to read an already-published anthology from the available list or their choice, before writing their own story. The guidelines ask participants to focus on a "[moment] you realized life had changed, something positive you learned about yourself, [or] a connection you made during this time, dealing with grief, or a difficulty." The submission should remain within the creative writing / memoir genre, and between two to four pages.  
Behind the scenes of the DUSD Anthology are two very recognizable campus figures: Mrs. Nobida, the College & Career Specialist, and Mrs. Spence, the Librarian. Always on the lookout for meaningful, resume-building experiences for students, Mrs. Nobida acknowledged her practical inspirations behind the project: "The idea came from me from a volunteer opportunity offered through Alameda County Library.  Because our students are always asking me for safe volunteer hours, I was thinking – couldn't we do something similar?" From there, the project expanded from a service opportunity to a commemoration of student experience. "Couldn't we create something that captures this year that future Gaels and our Dublin community members could read one day?" Mrs. Nobida wondered. "Maybe 20, 50, 100 years from now?"
She introduced the concept to Mrs. Spence, who responded with equal excitement. Mrs. Nobida described how "within a week, VOILA – she came up with the Anthology concept and the website! My mind was blown away!" Unsurprisingly so, considering the Anthology project is only one of Mrs. Spence's multiple involvements within the community, following the Overbooked club and virtual book fair. Regarding the DUSD Anthology, she expressed similar motivations as Mrs. Nobida. "It began as a way to help students access community service hours while learning and moved towards helping the community lend their voices to history," she explained. "My hope is that years from now, when students are learning about this time, they will be able to use the voices of students and community members who also walked the same halls."
Participants of the anthology project earn five volunteer hours for reading an anthology, and an additional five for their writing submission. The project closes on September 3, 2021, enabling ample time to involve as many community members as possible. Mrs. Nobida noted, "This is a great opportunity for students to share their voices in history, and even earn some volunteer hours in the process!" Mrs. Spence echoed her thoughts: "I am excited to hear all of the stories and help everyone be heard in this very isolating time."
For the list of available anthologies, writing resources, and more information, visit the DUSD Anthology website.
About the Contributor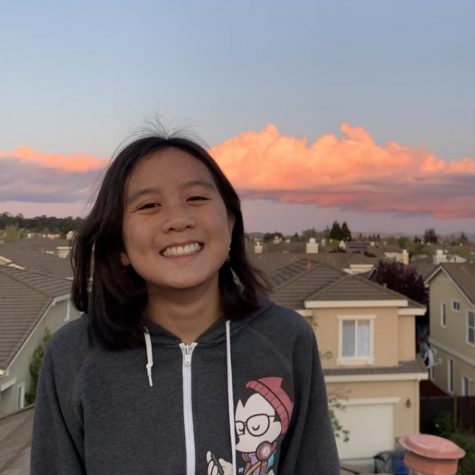 Danielle Tran, Editor-in-Chief
Danielle Tran is a senior at Dublin High and one of this year's Editors-in-Chief. She holds a deeply-rooted passion for writing, and has dreamt of becoming...