American Idol
Two weeks ago on American Idol, nobody was sent home because of the fact the judges did not use their save this season. However, on Thursday, May 2 one of the four girls was sent home. Amber Holcomb was the one who got voted it off. This result was not very surprising because she was in the bottom two last week and needed a lot of votes to stay on the show.
  "Through the night, I was like 'You know, whatever happens, I'm going to be proud of my position.' Fourth? Out of thousands? That's amazing," Amber Holcomb told MTV
  The three girls left on the show are Angie Miller, Candice Glover and Kree Harrison.
  Angie Miller is an 18 year old from Massachusetts. In the beginning of the show, she told her story about hearing loss in one ear. She plays the piano and has performed her own songs. Last week she sang "Someone Watch Over Me" and "Diamonds" by Rihanna.
  "There's no one that compares to you in this competition when you're behind the piano." Randy Jackson called Angie Miller's performance, "sheer perfection," said Nicki Minaj.
  Candice Glover is a 23 year old from South Carolina. Glover was cut from seasons 9 and 11, but is still going strong this season. Last week Glover performed "When I Was Your Man" by Bruno Mars and "You've Changed" by Billie Holiday.
  Keith Urban called it "a winning performance." Nicki Minaj started by saying, "That performance actually deserved a standing performance, so excuse us."
  Kree Harrison is a 22 year old from Nashville. She has always been considered a frontrunner in the competition.  Last week she sang "Stormy Weather" and Carrie Underwood's "See You Again".
  Nicki said she loved the performance, saying that Kree "sang with [her] eyes." Randy praises her vocal and emotion.
  The top three perform tonight at 8PM on FOX. The finalists will sing selections made by the producers, the judges, and Jimmy Iovine.
About the Contributor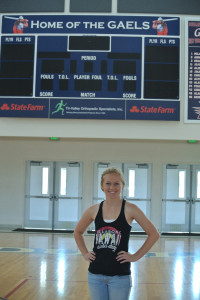 Caitlyn Murray, Distribution Manager
I'm Caitlyn Murray and I am a junior at Dublin High. What I like most about Journalism is being able to let the students at my school know what is going...