Biden plans to "Build Back Better" with his bill
On November 19th, 2021, the House passed President Biden's "Build Back Better" Bill by seven votes. At its core, this bill is a transformative piece of legislation that aims to rebuild the economy by elevating the middle class. It offers comprehensive childcare plans, support for students pursuing higher education, and budgets to combat climate change, in addition to bolstering underserved communities. 
This bill is a $2.2 trillion spending plan designed to be the "nation's social safety net" (New York Times). This plan will take place over the next 10 years. Initially, the bill was for $3.5 trillion but was reduced to increase administrability. 
This bill will increase the budget deficit (essentially increasing debt) by $367 billion over the next ten years. However, the President and lawmakers plan for the wealthy to pay for this bill. This bill will increase taxes on individuals making more than $10 million by 5% and an additional 3% for individuals making more than $25 million. The bill also aims to prevent companies and individuals from dodging taxes by routing their income through other countries by imposing an additional tax on that as well. Furthermore, this bill will budget $80 billion to the IRS (Internal Revenue System), so that tax evaders can be apprehended and increase the difficulty for corporations to avoid paying taxes. 
One of the benefits of this bill is the plan for child care. This bill plans to improve access to high-quality childcare, citing long-term benefits. Up to six million children will have better child care. Further, the bill intends to reduce childcare costs for middle-class parents. This bill will directly impact around an additional 20 million children and their families.
Another education-related benefit of this bill is added ingress to post-secondary education. The bill has a budget allotted for this mission and plans to " …use a significant share of grant funds to [share], among students of color, low-income students, students with disabilities, students in need of mediation, first-generation college students, student parents, and other underserved student populations…"(80 HR). This means that going to college can become a viable possibility for intelligent students who can't afford it otherwise. This means that these students can have better careers in fields suited for them. This bill also serves to lower the costs of attending trade school, as well.
Climate change is a controversial topic in Washington. Many lawmakers ignore it, and those who acknowledge it also admit that implementing real change is costly and not sustainable. This bill tackles both problems to try and make clean sources available to the general public. For one, this bill makes using clean energy a practical implementation by the "enhancement and expansion of existing home energy and efficiency tax credits, as well as the creation of a new, electrification-focused rebate program" (The White House). The bill also intends to invest millions in reforestation efforts and carbon monitoring technologies. It plans to spend $180 billion on research and development for clean energy.
There are also smaller topics of improvement planned in the bill. For example, the bill plans to spend $100 billion on immigration reform, which will help many unheard and unserved Americans. It also plans to improve government health insurance, like Medicare and Medicaid. This means older individuals will have to pay less and receive more benefits under their current health plan. It will be a significant change in government health insurance in 40 years. 
This new bill was and still is, very controversial. As aforementioned, the bill was narrowly passed by the House. After the original framework was pared back, most Democrats were on board with the bill. Only one Democrat was opposed, citing concerns that the bill would only raise taxes on citizens. Other Republicans were opposed to the bill, stating that it was too costly to actually be advantageous. 
In the end, whether this bill is beneficial or detrimental to American society has to be decided by the Senate. One thing is for sure, if this bill is passed, there will be impactful changes.
About the Contributor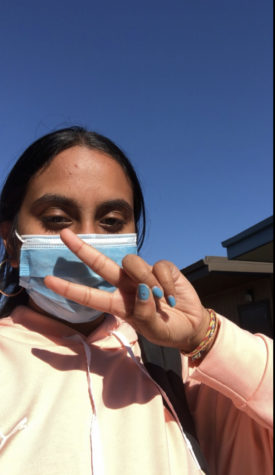 Jiya Modh, Staff Writer



Jiya Modh is a sophomore who is interested in the world and making a difference. She loves reading and watching TV shows. In addition, her favorite...