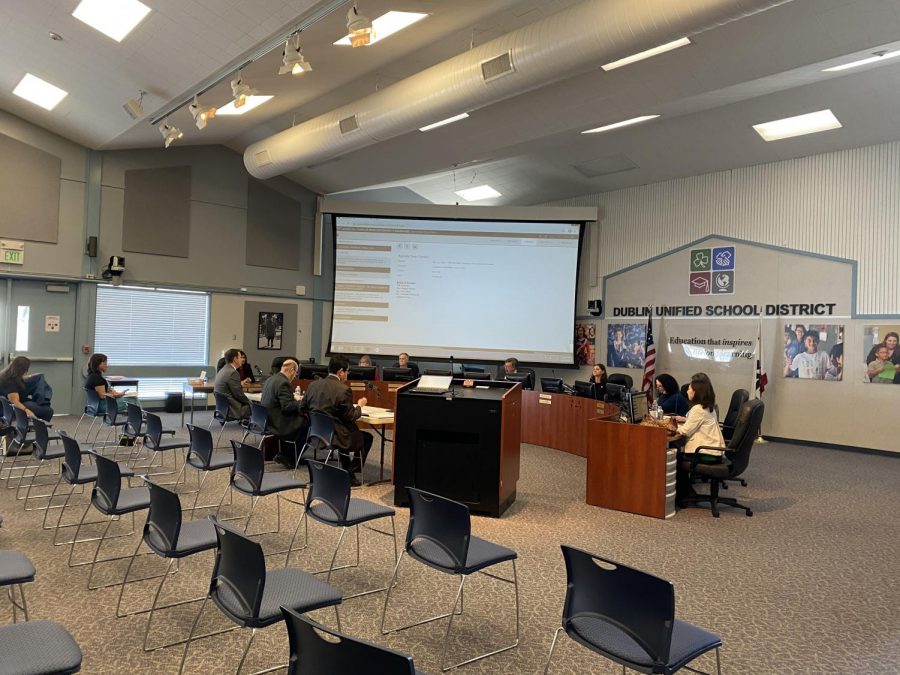 Anna Thattacherry
During the special board meeting earlier today, the DUSD Superintendent, Dr. Dave Marken, announced that in response to COVID-19 and acknowledging that "unprecedented times require unprecedented actions," schools would be closed for four weeks, including the week of Spring Break, with classes expected to resume Monday, April 13th, 2020. While there are no confirmed cases of COVID-19 in Dublin, Dr. Marken expressed that this precautionary measure would assist in preventing exposure and the potential spread of the virus. The trustees unanimously supported this decision with an advisory vote.
Dr. Marken announced that on Tuesday, March 17th, there would be a staff meeting to develop lesson plans, ensuring that the "education of our students would continue … [though] nothing can replace teacher and student engagement together." Speaking to parents, Dr. Marken stressed that parents could not expect individual learning plans considering the multitude of students within the district. Dr. Marken also encouraged parents and students to refrain from traveling during the break as "crossing geographic areas, including within our own nearby communities" could cause the virus to spread instead of containing it. 
Further, Dr. Marken clarified that all school and district offices would also be closed to the public and administrators would not be available for meetings. Dr. Marken mentioned that an exception would be made for previously scheduled IEP meetings and commended the work of the Robbie Kreitz, the president of the Dublin Teachers Association (DTA) and the Special Education Department to ensure special education students would be supported during the transition. 
Dr. Marken thanked the DTA, union leadership, the cabinet, and the executive board, and the "tireless work of the amazing [district] staff" dedicated to effectively implementing this suspension of classes. Speaking to the "nuts and bolts" of suspending classes, Dr. Marken explained that all staff members will continue to be paid during the suspension, a concern that Trustee Blackman alluded to during the previous board meeting. 
Dr. Marken also provided reassurances that DUSD students receiving meal assistance would be able to pick up breakfast and lunch for the duration of the suspension, including the week of Spring Break, at Dublin High School and Cottonwood Creek. Though seating will not be available at these sites, "Grab and Go" bagged breakfasts and lunches will be available from 7:00 am to 9:00 am for breakfast and 11:00 am – 1:00 pm for lunch. DUSD also announced a plan to allow students without access to computers and Internet to borrow Chromebooks and a wireless Internet access point to facilitate remote learning during the suspension.
Following Dr. Marken's announcement, President Cherrier thanked the staff members for taking proactive action and moved to an advisory vote, allowing for the meeting to close as soon as possible to allow staff members, including district nurses and administrators, to handle the logistics of closing schools. 
Given that several of the public speakers were likely concerned with the closing of schools, there was limited discussion and few public comments following the advisory vote. The first speaker, a nurse, commended the board's decision and then acknowledged the vulnerable communities that would be especially impacted by the virus and cautioned that it was important not to perceive the closure of schools as an absolute solution. Other speakers raised questions about neighboring districts and ROP classes; in regards to the latter, Trustee Miller encouraged the concerned parent to reach out to ROP Superintendent Julie Duncan but did clarify that college classes would continue. The final speaker addressed a common concern among the parents present that the COVID-19 threat wouldn't be reduced by April 13th and the board stressed that it was an evolving situation and that the district would be continuously evaluating appropriate measures. 
Following these public comments, the board concluded with a few comments from the trustees. Trustee Miller expressed thanks to the superintendent and staff for their diligent work and expressed that she had a "complete trust that they were going to make a decision that was in the best interest of students and staff." Though Trustee Miller acknowledged that were a lot of unanswered questions and mentioned that several neighboring districts would all be following suit and was "hopeful that we'll be able to return on April 13th." 
Trustee Blackman also echoed that support and requested more information about how the logistics of online learning would be communicated to students and the provisions in place for students without access to technology. Trustee Rouse also commended the collaboration between staff members and expressed support for Dr. Marken and the decision to close schools. Concluding the meeting, President Cherrier announced that the format of board meetings may be changing to an electronic format, as directed by Governor Newsom's updated regulations regarding public gatherings. President Cherrier also expressed to the community that the "responsive action shown this afternoon is showing that we can put a lot of confidence that the right choices are being made" and stressed that the safety of students and Dublin residents was of utmost importance to the district office.