DubLove: A Week of Unity, Empowerment, and, Above All, Love
When you look at yourself in the mirror, who do you see? Do you see someone who puts on a brave smile but actually is  struggling mentally? Do you see someone who was born with a disability and is tormented because of it? Do you see someone who expresses romantic feelings towards another one's parents do not necessarily approve of, or do you see someone who comes from a culture others tend to feel unsafe around? Through DubLove week, Dublin High abolished these negative subjects and emphasized everybody's beautiful qualities by celebrating the theme of love in spirit days.  Closing with a unifying rally, DubLove is a week for us to emphasize our overall support for one another, despite our flaws, because our flaws are not flaws at all, but the differences that make us who we are.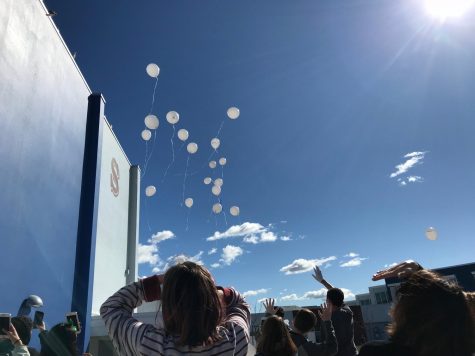 Danielle Tran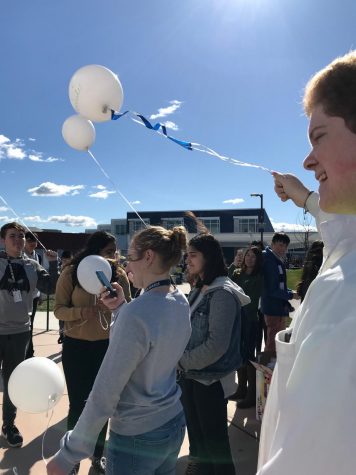 Monday, which focused on Mental Health Awareness, kicked off with a Green Out! spirit day. At lunch, students gathered around the Quad for an empowering balloon release: they wrote their fears, anxieties, and concerns on pure white balloons and released them into the sky, metaphorically releasing their own experiences with oppression. "It felt like a weight was lifted off my shoulders when I released that balloon," said senior Emily Perry. "When I let go of the thing that made me anxious and kept me up at night up in the air, it felt like I didn't have to worry about it anymore." It was a truly inspiring sight as dozens of balloons, inscripted with phrases such as "mental illnesses are not adjectives" and "end the stigma",drifted into the air, giving us all a vision of progress, confidence, and hope.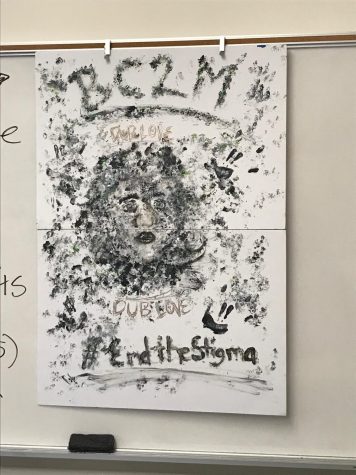 Danielle Tran
On Tuesday, DubLove fueled a Blue Out! spirit day that supported Special Education students through their struggles. The motto, #SpreadtheWordtoEndtheWord, targeted the term "retard" and its unnecessary yet frequent use across campus, as students rallied together at lunch to sign a pledge poster.
Wednesday, which also happened to be Valentine's Day, devoted its theme, Rainbow: Pride Day, to honor everybody's sexualities and preferences. The LGBTQ community is certainly not denied here at Dublin High, with a heartfelt face-painting session during lunch, and the Gender Sexuality Alliance, which meets weekly to participate in activities while getting to know one another. Because "[e]verybody deserves a great love story," despite who it might be with (Love, Simon).
Thursday was a day that focused on everybody's heritage  coming from all over the world. Students were encouraged to dress to express their culture through clothing that was unique to their own traditions. Here at Dublin High, students are constantly forging their own futures, but it is always incredibly important to recognize one's past and where they came from.
DubLove week wrapped up with a spirit day simply devoted to kindness. Because a little class competition never hurts, the theme was split by grade level: seniors wore red, juniors wore pink, sophomores wore white, and freshmen wore red. Two other very exciting events concluded DubLove week: a school-wide rally and the Decades Dance, the winter dance turned retro. –  The Decades Dance was a informal, fun dance where students could dress up in their favorite throwback clothing.
In the end, DubLove was a thrilling, spirited week where students were able to express their support for one another, no matter the struggle. However, DubLove brings light to another overshadowed topic: the consequences of not appreciating yourself for who you are. Perry continued on to passionately explain , "Having DubLove is important for our school because it is important to love not only each other, but ourselves. In our day and age, we are taught to talk ourselves down, and that can take a huge toll, especially on young, growing individuals. If we start this love early in life, like with DubLove, then there will still be hope for ourselves and others." This statement rings true in the way that it forces us to ask, How can we possibly learn to love others if we have not mastered that for ourselves? So if you happened to look in the mirror and disapproved of the person who looked back, know that there is no reason for you to do so. Your so-called flaws are not flaws at all but differences, which are not necessarily negative ones. DubLove serves as a reminder that it is not only okay to celebrate those differences but also imperative . Look in the mirror, and recognize the smile that could light up the room. Look in the mirror, and understand the past your family went through in order for you to shape your future. Look in the mirror, and unearth your own hidden potential because this discovery, this embrace, this potential that you find, will be the most beautiful thing of all.