Love, Unity, and Feminism: Women's March 2018 from the Perspectives of DHS Students and Alumnae
Ever since its breakthrough last January, the Women's March has been an organization that fuels change. It bolsters the cause of gender equality, and it encourages peaceful protests as a sign of resistance and unity. Last October, the Women's March promoted public advocacy and intersectional feminism through the Women's Convention, a conference for thousands of women across America that urged for them to reclaim their time. At the conference, a special focus was given to young women, where they were given a toolbox to begin and continue movements throughout the nation.
In 2018, the theme of the Women's March was Power to the Polls, which emphasized voter registration and empowerment through political participation. Furthermore, the anniversary march created solidarity among a incredibly diverse group of people. Many people attended the march with their loved ones, and they experienced the true beauty of a country united for themselves.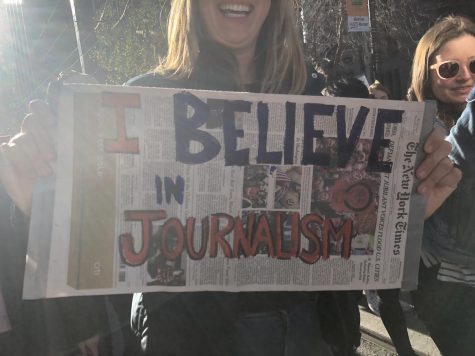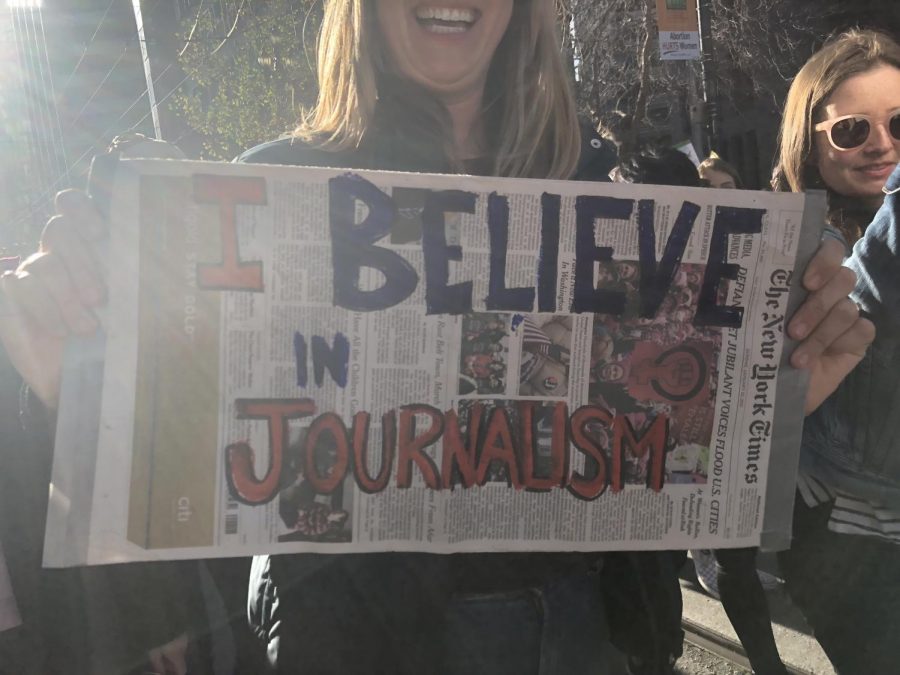 Danica Bastress
Danica Bastress, a senior on the cross country team, stated, "I think what amazed me most was the range of people who wanted to see a change in our country today. Everyone had a reason to be a part of the revolution, and it was just really powerful to be in the crowd."
Senior and choir president Christine Haggin expressed, "Seeing the sheer amount of people that showed up to march was really hopeful! I think for all people who go, it's an act of solidarity to those who, especially now, are marginalized and oppressed by not only our government but by society as a whole."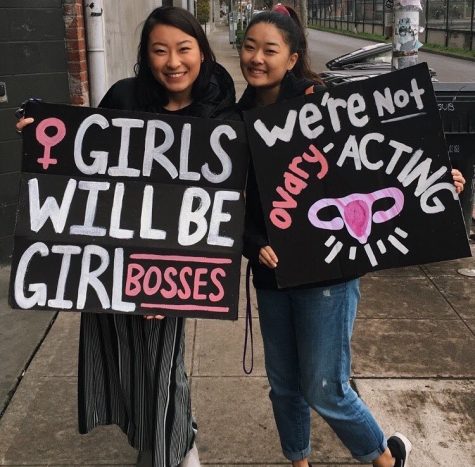 Alumna Alyssa Kearns, who is currently a student at the University of Washington, attended the Women's March in Seattle, Washington. Although she was more than eight hundred miles away from her peers, she also was in awe of the group's diversity and passion. "I was amazed by the sheer amount of people who came out to support the Women's March," Kearns said. "There were so many children and fathers and grandparents and couples, and pets even, that were all standing in the cold and rain for three hours to demonstrate the need for feminism and gender equality. It was so empowering."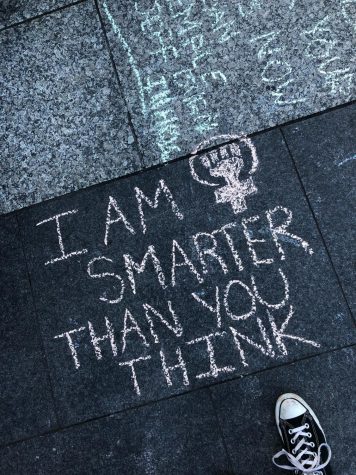 One of the Dublin Shield's editors, Kiana Meagher, also had the opportunity to attend the march. She highlighted a speech that inspired her to march. "During the rally, Brittany Packnett's speech brought me to tears," Meagher stated. "Her goals and optimism for a better future helped me solidify my reasons for marching. I was surprised how open people were with one another. Everyone was peaceful, respectful, and passionate. I got the opportunity to talk to some women at the march who were not much older than me about our reasons for marching."
Altogether, the people were cohesive – they stood, listened, and marched for a change. However, every person at the march had their own reasons for attending, from wanting to impact the community around them to coming from a specific background, every person there saw the inequality of our modern-day society and knew that political protest could encourage women to stand up for their rights.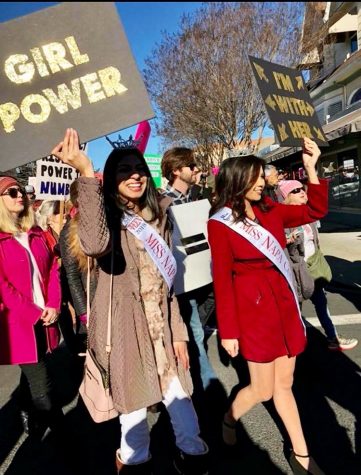 Anvita Vyas, a sophomore who won Miss America's Napa County Outstanding Teen, stated, "I wanted to become a voice to help speak out for women's rights. I feel everyone's voice counts and with more support, women will definitely get the opportunities they deserve."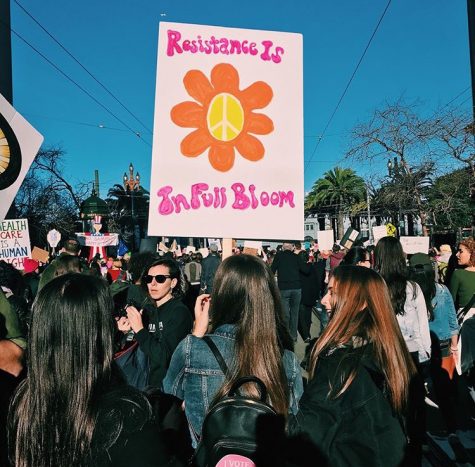 Maile Moreno
Senior Maile Moreno comes from a unique perspective. She expressed, "I went because I come from a fairly conservative family and the women's movement has sparked my interest throughout high school. I attended the march to take a stand for my own beliefs and worldview."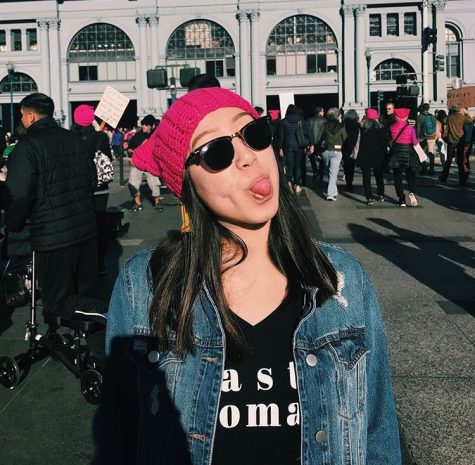 Alumna Alyson Chuyang took a stand for women's rights because of her loved ones. She declared,  "There are people out there who think that equality has been achieved, but I'll tell you right now that there still is a way to go for women to be recognized as equals in every setting. I also wanted to show my little sister that being a woman also means being a strong individual willing to stand up for themselves."
Some people marched because of their future. Awareness that sexism and other forms of discrimination does happen is the first step to change, and these people wanted to be a part of that. Danica Bastress said, "I marched because I wanted to be on the right side of history. As a woman, I know that I'll face challenges in the workforce strictly because of my sex, and my goal is to make a better future for the girls of later generations. Hearing the other stories at the rally really inspired me to stand for women who can't march with us."
Alyssa Kearns added a perspective from a woman of color. "I went because I wanted to show support for the feminist movement and to stand up for my own equality," she said.  "I think it's important to rally and march. It unites and empowers the group while also demonstrating power to those outside the movement. I always wanted to bring in the intersectional perspective of a woman of color to the march and show that women of color are a prominent component to this movement."
Even if you did not attend the Women's March, there are still many opportunities for awareness and change. There are many actions you can take to impact your community, from reading feminist literature to educating others about equality,. The students and alumnae who attended the Women's March wholeheartedly support the idea of further activism.
Danica Bastress expressed, "I would say to do whatever you can to take part in this movement because each person that acknowledges the lack of women's rights in today's society will help spark dialogue, leading to actually making a change."
Anvita Vyas also stated her support for making a change in the women's movement. "I would encourage them that we have to fight for this cause, fighting for a long term solution is more valuable than any short term gain. Women having equal rights, status, and protections is essential, and we need laws which make this clear."
However, alumna Alyson Chuyang truly expressed the voice of the Women's March in a cohesive statement. She encourages any student at Dublin High to speak up and be bold. "I think that as young people, you may think you don't have a say in anything, but you can really start a movement," she stated. "We are the generation that could make a change and you should always support your fellow sisters because women empowerment is the move!"