Keeping Up With Mr. Dublin: The Season Finale
By 6:30, the theater was buzzing. Students, teachers, and various members of the community united together for the annual Mr. Dublin pageant.
Dublin High is home to endless traditions, and this senior class fundraiser is no exception. In this pageant, thirteen boys (Christian Amador and Thomas Yulo shared the title of Mr. February) competed for the title of Mr. Dublin. They each represented the month they were born in. The boys were judged in several categories: swimwear, formal-wear, a question and answer session, talent, and pick up lines.
Both friends and family came to support the boys as they competed for the title of Mr. Dublin. Mr. October's younger sister, sophomore Claire Rosefield, said, "I was really excited to see Matt be his normal goofy self and to have fun on the stage."
There were many memorable moments throughout the show. Mr. March, Matthew Glynn, and Mr. October, Matt Rosefield, made the audience laugh with their revealing swimwear. As for formalwear, Mr. July, Ryan Murray, stunned the audience with his America-themed suit. Three of the boys, including Mr. May (Evret Korb), wore white suits and bright ties.
But the really hilarious moments were when each of the guys got to impress the audience by using their words and charisma. In the Q-and-A, led by the hosts Savannah O'Callaghan Jones and Jaxon Chadsey, the 'PUNstoppable' Kevin Hom (Mr. November) called Savannah 'Sav-bug-nah' because she drove a white Bug–not a van. The romantic-at-heart Mr. December (Danny Norans) made all the girls swoon when he described his dream date, biking on Half Moon Bay.
After the fifteen minute intermission, the talent portion drove the audience wild. The audience sang along as Mr. January (Anthony Casasos) and Mr. November (Kevin Hom) danced to "A Thousand Miles" by Vanessa Carlton, played by Mr. September (Tony Kim) on his violin. They burst out laughing as Mr. February 2 (Thomas Yulo), Mr. July (Ryan Murray), and Mr. February 1 (Christian Amador) danced to Sia's hit "Chandelier" in nude bodysuits. Mr. April (Dom Piegaro) and Mr. June (Raffy de los Santos) ballroom danced- Raffy dazzling in a fuschia pink dress.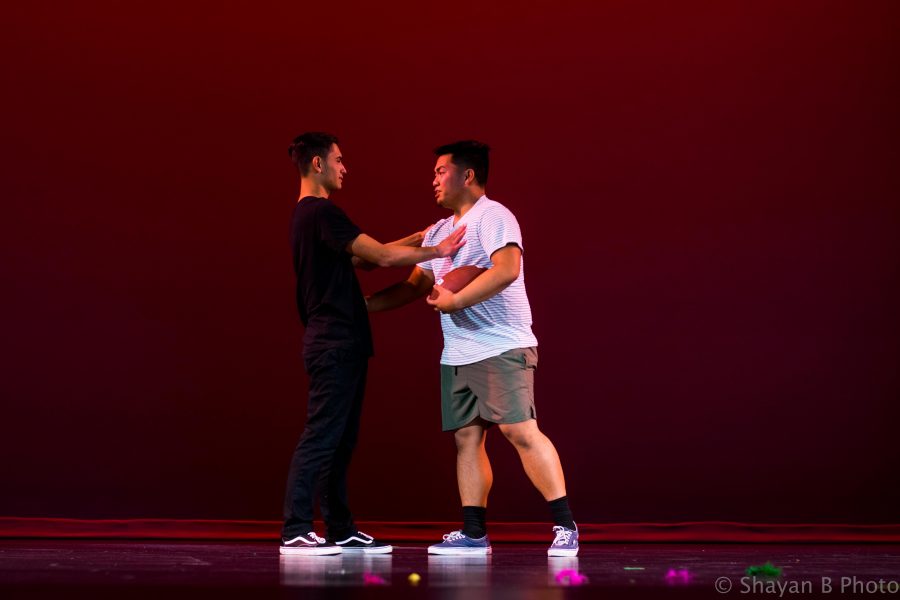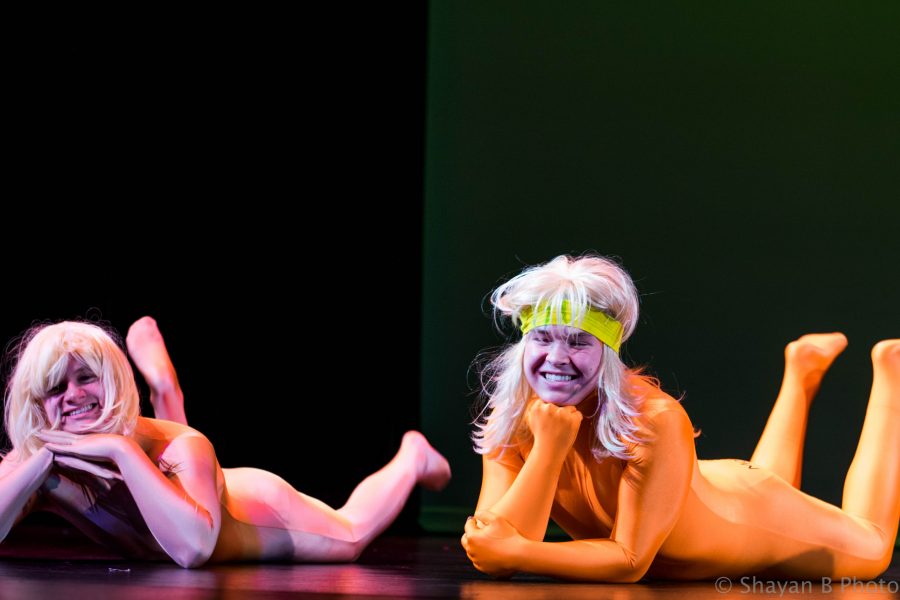 The individual talents were amazing in their own right. Mr. October (Matt Rosefield) played three instruments at once, performing short tunes and entertaining the audience. Mr. May (Evret Korb) danced to "Canned Heat" by Jamiroquai like Pedro Sanchez in the 2004 comedy Napoleon Dynamite. And Mr. March (Mathew Glynn) sang "When You've Got It Flaunt It" by the Producers, dolled up in a blonde curly wig and a red satin dress.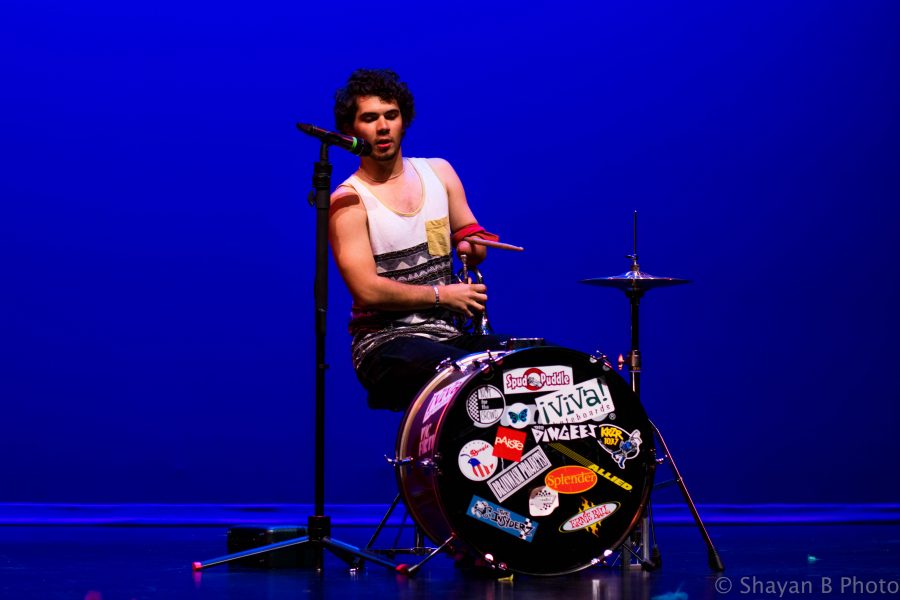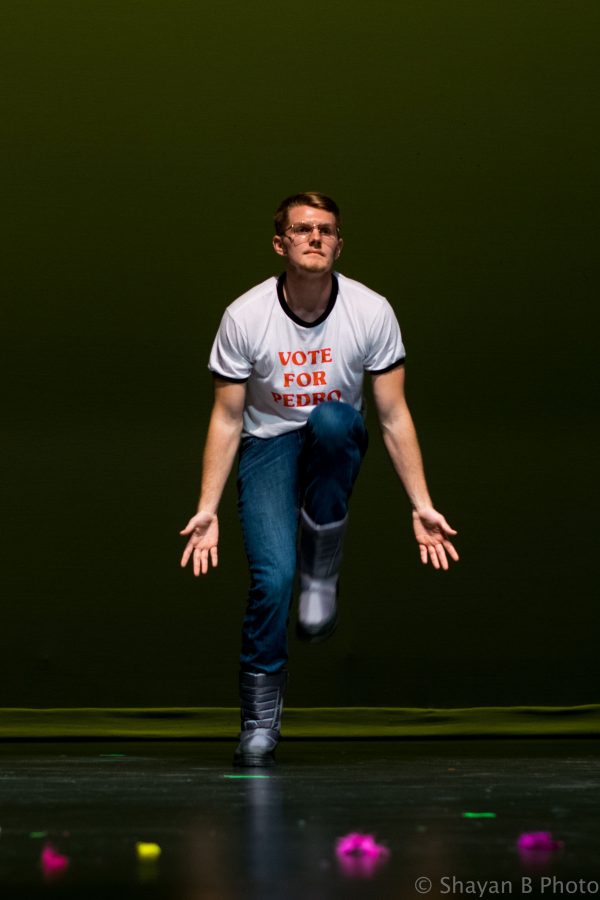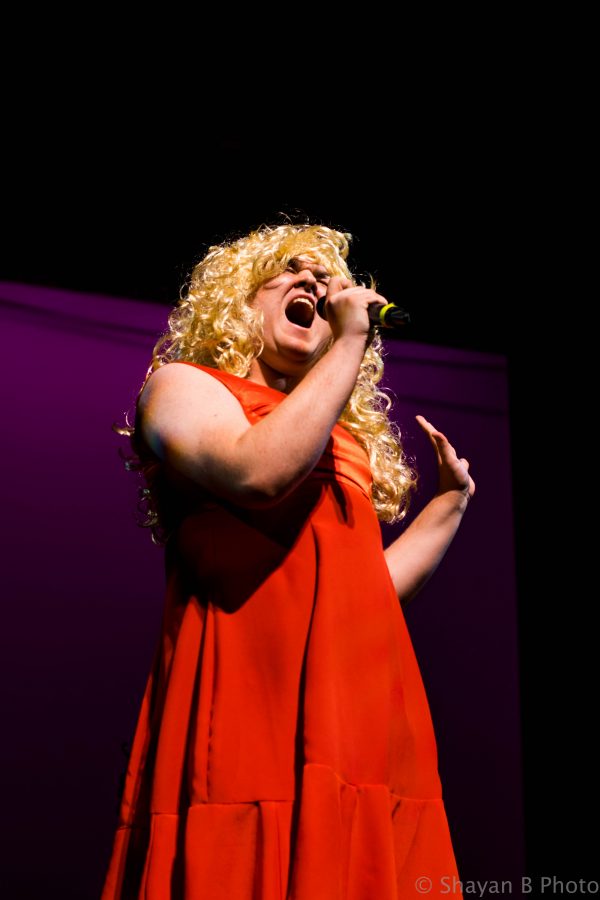 But the best is often saved for last, and to some, the pick up lines were no exception. All of the boys truly showed off their personalities, and the audience thought that the lines were hilarious.
Meet Mr. Dublin
Anthony Casasos (Mr. January) – Anthony Casasos loves helping people and enjoys making them laugh. He would like to thank his family, friends, and cross country team for always supporting him through everything he's been through. Anthony would also like to thank his adoring fans, he loves all five of you.
Pickup Line: "To live, most guys need water and a meal or two. But the only thing I need is you."
Highlight Performance: Talent portion with Tony Kim and Kevin Hom dancing in tutus.
Christian Amador (Mr. February 1) – Christian would like to shout out all of his friends, his family, and his girlfriend for helping him get through high school. He would like to thank Apple and Netflix for providing him with sleepless nights. And lastly he would like to say: Mr. McKeon, Ms. Velez, Ms. Beck, Ms. Ball, McHugh, Wade, Coach O, Jason, Big D, y'all are the realest.
Pickup Line: "Hey girl, I ain't no organ donor, but I'll give you my heart."
Highlight Performance: Q&A Portion. When asked what the most important value his mom taught him, he answered, "The most important value my mom taught me is how to love and respect women."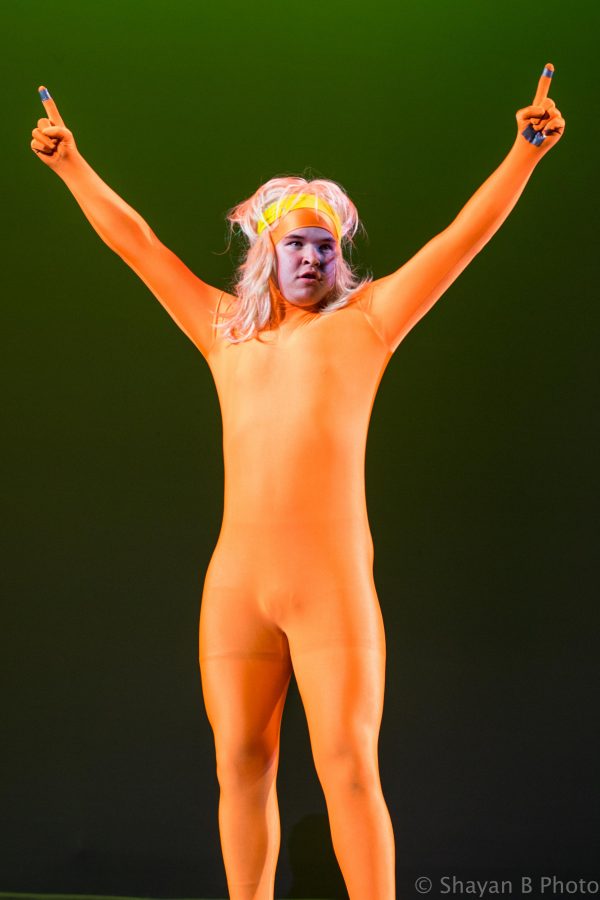 Thomas Yulo (Mr. February 2) – Thomas Yulo, also know as Mr. February #2, is the King of Romance! Most think of Thomas as a big cuddly bear because of his warm, comforting, and protective hugs! Thomas is also like the perfect box of chocolates on Valentine's Day; with a mouth watering aroma, and a rich, sweet, and comforting personality!
Pickup Line: My name isn't Sully, but you can be my Boo."
Highlight Performance: Swimsuit. Along with Amador, the Mr. Februaries really set the bar high for the rest of the competitors.
Mathew Glynn (Mr. March) – Mathew Glynn is fabulous. You didn't need to read this bio to know that. What you do need to know is how excited he is to be in Mr. Dublin as Mr. March. He hopes you enjoy the show and have a marvelously good time. Jolly good show!
Pickup Line: Hey girl, you from France? Because MaDAMN."
Highlight Performance: Swimsuit. He made the whole crowd go crazy.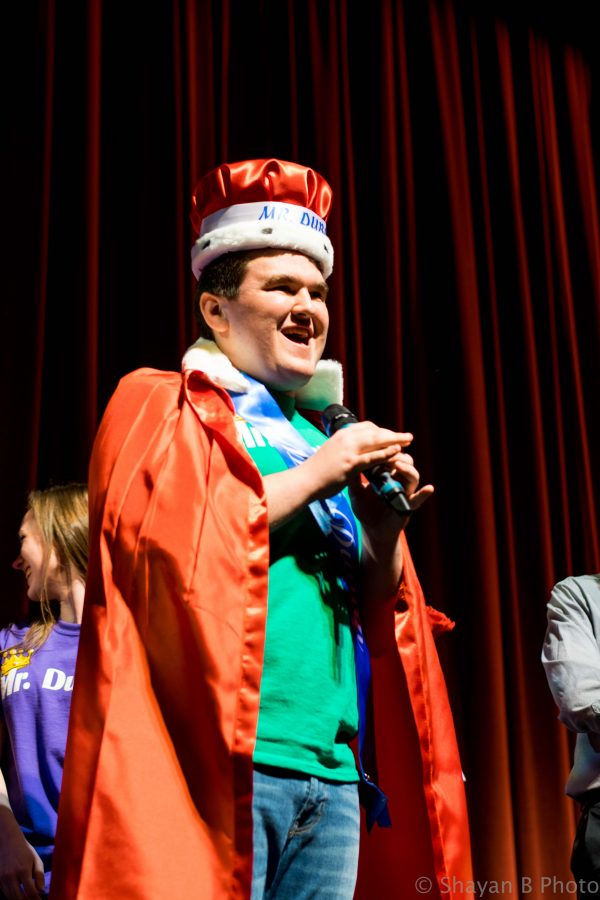 Dom Piegaro (Mr. April) – Dom Piegaro is a heavily involved athlete and has been active in football, wrestling, and baseball since his freshman year. When he's not putting in work on the field/mats, you can find him with friends or spending time with his mom Anne, sisters Serena and Shelby and his best friend Big D. He'd like to shout out all his friends and family for all their love and support through everything.
Pickup Line: "Roses are Red, Violets are blue, I didn't know what perfect was, until I met you."
Highlight Performance: Talent. Ballroom dancing with Raffy.
Evret Korb (Mr. May) – Evret is excited to represent the month of May, and thanks everyone for this great honor. "Roses are red, violets are blue, my dream is to win Mr. Dublin, for all of you and Mom too."
Pickup Line: "You know I'm kinda shy and nervous and I think you're really cool and I think we'd have a nice time together."
Highlight Performance: Talent. Korb's performance of the Napolean Dynamite dance made the crowd roar.
Rafael De Los Santos (Mr. June) – Raffy would like to thank his mom and dad for making him the person he is today. And Jack Black for everything in life. <3
Pickup Line: "I know I've been falling a lot lately, it's because I've been falling for you."
Highlight Performance: Series Finale video. Raffy's crying made the audience burst with laughter.
Ryan Murray (Mr. July) – Ryan Murray is proud to be July and show off his love for his favorite holiday (Fourth of July) and his patriotism. He can be seen all throughout the show wearing red, white, and blue. Ryan would like to thank you all for coming out to the show and says "Tonight is going to be a great night to be a Gael."
Pickup Line: "Hey, girl. From one to America, how free are you tonight?"
Highlight Performance: Alongside Tommy and Christian, Ryan danced in a tan bodysuit and platinum bob wig to Sia's "Chandelier."
Jackson Calhoun (August) – Jackson can't wait to bust a move tonight and embarass his brother beyond repair. Jackson plans to dazzle the judges and enthrall his audience. He hopes everyone has fun tonight!
Pickup Line: Damn girl, I'm gonna have to go get my library card because I am checking you out!"
Highlight Performance: Talent. Jackson's mace twirling impressed the crowd immensely.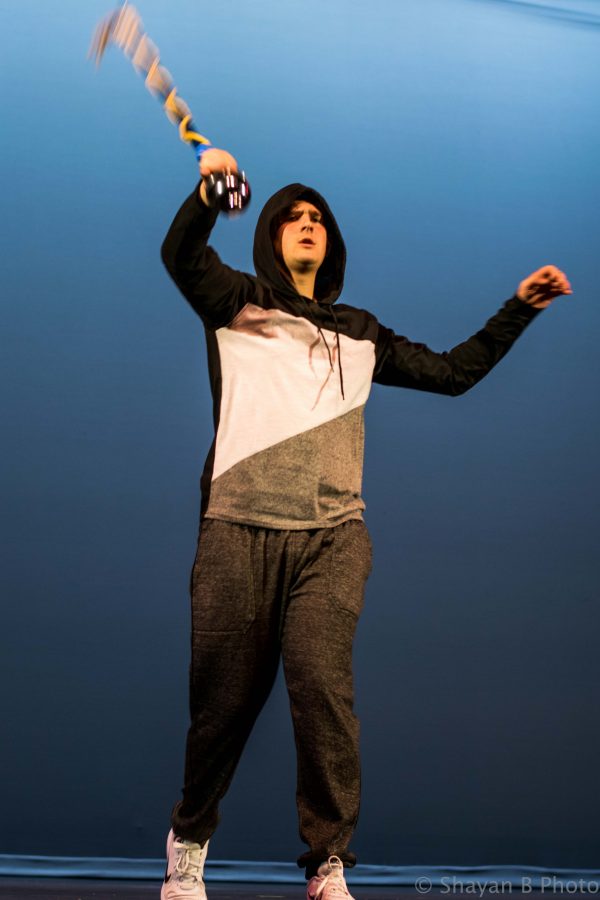 Tony Kim (September) – A member of the selective San Francisco Symphony Youth Orchestra and the California All-State Orchestra, Tony (Dong Hui) Kim is the self-proclaimed "okay" violinist and pianist. Tony is always that one awkward Korean who is addicted to K-dramas and relies on Urban Dictionary to understand America. He would like to thank his friends and family for the never-ending roasts and reluctant rides.
Pickup Line: "Hey girl. My name is Microsoft, can I crash at your place tonight."
Highlight Performance: Talent. Showcasing his violin talents, Tony Kim wowed us all.
Matt Rosefield (Mr. October) – Matt would like to thank his friends and family, especially Analiese, who roped him into doing Mr. Dublin in the first place. Jam on.
Pickup Line: "If you were a pikachu, I would choose you. Gotta catch em all."
Highlight Performance: Talent. Matt played three instruments at one time for the crowd, as well as cracking jokes in between to keep the audience engaged.
Kevin Hom (Mr. November) – Kevin Hom is nov-member of many clubs on the DHS campus. He is an avid lover of dad jokes, and is PUNstoppable in his classes. You can always find Kevin adventuring around the Bay, exploring new places w his HOMbres, or just chilling at Starbucks until 1AM, like he's doing as he writes this bio.
Pickup Line: Let's just say, he pulled a very smooth move on SavBugnah.
Highlight: Q&A. When asked where he sees himself in ten years, Kevin graciously answered, "making bad puns and embarrassing my children."
Danny Norans (Mr. December) – Danny, Daniel, or Dan, Mr. December man, dedicates his devotion for Dublin High School to his fans. Looks good in any outfit. Does he even have to match it? I doubt it! Music and sports. Always busy never bored. Talk to him if you want to know more.
Pickup Line: "If I had one penny for every time I thought of you, I'd have one cent because you never left my mind."
Highlight Performance: Talent. Danny busted out his ukulele, playing an original song with island vibes.
But Who Won?
At intermission, members of the audience were asked, "Who do you think is going to win, based on how the boys are doing so far?"
Many predicted that Matthew Glynn was going to take the crown. Sophomore Trevor Haar said, "It's close between Mr. March and Mr. October, but in the end, my money's on Mr. March."
Some of the people asked said that Tony Kim, Mr. September (and first runner up), was going to win. "Tony Kim has a good chance," Junior Ian Matta said enthusiastically. "I feel like his talent is going to be a violin solo and he's going to kill the game."
And yet some thought differently. Senior Mehak Dureja inferred, "I think it's going to be Kevin Hom, Mr. November. He's really funny."
By the end of the night, the crowd was anxious to see who would be crowned winner. All thirteen boys and their helper girls stood in a line at the front of the stage anticipating the news.
Dublin's first award of the night, Mr. Congeniality was given to Mr. December, Danny Norans. Norans impressed the judges by his ukelele and singing talents as well as his tasteful outfits and swoon-worthy answers.
Right after, the title of second runner-up was presented to Jackson Calhoun. An active student on campus, Calhoun has played DHS soccer while also leading the Freshman Mentoring Program Executive Board. He stunned the crowd with his mace twirling skills as well as his energetic personality during the group routines.
For first runner-up, musical prodigy Tony Kim made the crowd laugh at his Korean jokes as well as his incredible violin talent. His acts were light-hearted which made the audience connect to him. If you asked anyone, Tony Kim was a fan favorite.
Leading up the revel of the winner, the amazing hosts Jaxon and Savannah, who were a large factor to the impeccable comedic timing of the show, cued the audience to drumroll, then announced Mathew Glynn as Mr. Dublin. Mr. March's emotions were shown right across his face, a mix of surprise, joy and pure DHS spirit. And though Mr. Dublin may have been shocked, but by the sound of applause, the crowd sure wasn't.
Mathew was consistently strong throughout the entire show, and thanks to his theater background, helped capture the audience's hearts with his social presence and comedic timing. The event threw out various categories of competition, and no matter if it was swimsuit or formalwear, Mr. March provided entertainment to the people, and the people responded.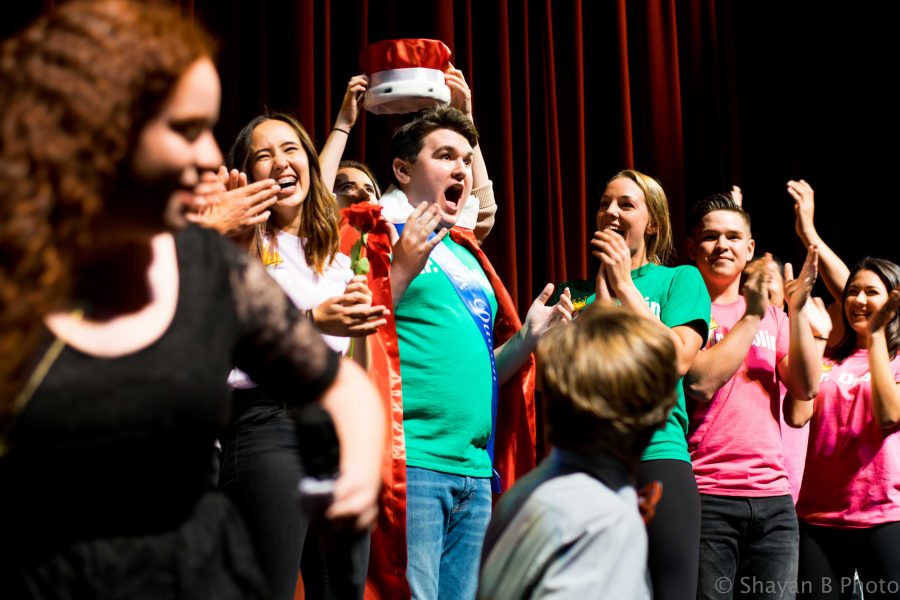 Congratulations Mr. Dublin and all the other contestants as well as the Helper girls, Madeline Nobida, Hailey Bruce, Ashley Hedt, Sarah Grier, Ms. Beck and the Senior Class Moms. What a wonderful way to kick off Thanksgiving break!