Meet Ms. Priyanka Dadlani, Chemistry and Honors Chemistry Teacher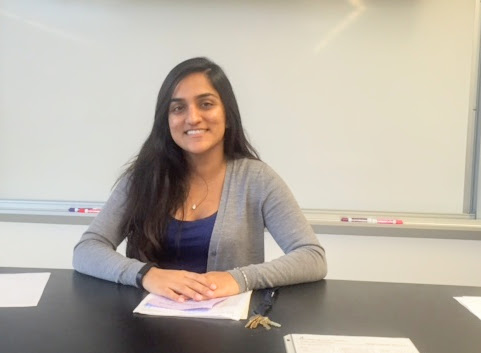 Ms. Priyanka Dadlani is the new Chemistry and Honors Chemistry teacher at Dublin High. However, this is not her first year teaching at the high school level: she taught AP Chemistry and regular Chemistry at Half Moon Bay High School last year. Ms. Dadlani also has been teaching Honors Chemistry over the past few summers as a part of the DPIE STEM Enrichment Academy. According to her, she "really enjoyed the experience, overall vibe, and community here", which prompted her to move to Dublin High.
Ms. Dadlani was born in India, but grew up and went to school in Sacramento. She attended UC Berkeley, where she majored in Chemistry and received her Bachelor's of Science, and obtained her teaching credential there as well. She also taught for a year at Berkeley High School as a student teacher before moving to Half Moon Bay.
She credits her AP Chemistry teacher from high school for getting her interested in majoring in Chemistry. "Back in high school, my AP Chem teacher really made the subject exciting and interesting," she says, "which was different from my other classes, which were so textbook-oriented and not really as engaging."
Having had a keen interest in math and science right from middle school, which she considered "relatively easy subjects" for her, Ms. Dadlani began helping her peers understand the material, and considers that experience to be the beginnings of her interest in teaching.
Ms. Dadlani does enjoy working with the students at Dublin High, whom she says "have a lot of potential, but sometimes it's hard for some of them to realize that. Just helping them realize their potential has been great, especially when they see what they can do when they really apply themselves." She adds: "Working with Mrs. Morgan, Mr. Vereen, and other colleagues has been really rewarding. There's a huge support system with all the staff here that has been helpful, encouraging, and motivating as well."
Of the various branches of chemistry, Ms. Dadlani enjoys teaching stoichiometry, which measures quantitative relationships and is used to determine the amounts of products and reactants in a reaction. She believes it is the most intimidating branch for students, but when she teaches the subject matter in relation to an everyday task like cooking, she loves seeing the students "realize that it wasn't that hard after all."
Ms. Dadlani also shared some tips with The Dublin Shield on how to be successful in Chemistry class:
Pay attention.

"Listening to instructions is super helpful," she says. "One of my biggest pet peeves as a teacher is when students do not listen when directions or instructions are given."
Be willing to put in the time and effort to take responsibility for your own learning.

"With both Chemistry and Honors Chemistry, I put a lot of responsibility on the student, so they need to be willing to put in that effort and have the level of maturity to realize what they do and do not need to do."
If you need help, ask for it immediately.

If you are having any difficulty understanding the subject matter, don't wait it out. Help is always available at the Hub or from the teacher.
When she's not teaching, Ms. Dadlani enjoys exploring the outdoors through "hiking and biking".