Homecoming Carnival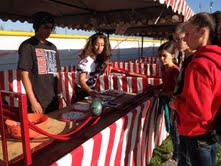 Games, food booths, and inflatables. These are the types of features that Dublin offers at their annual homecoming carnival.
Every Friday of homecoming week, our city hosts a carnival for not only all our students, but their families and the community. This year, it took place on October 11th by the DHS baseball fields. It is a great way to spend time with friends before the big game but mostly, it is a fun way to raise money for all the clubs that we have here at Dublin High. We had foods like baked goods and popcorn. We also had games like Dunk It and Spin Art Machine, and inflatables like Screamer Slide and Defender Dome.
A few days before the carnival, our mayor Tim Sbranti held a meeting with all of our clubs and classes at our school. Here, he held a random drawing for each food and/or game booth. Once everyone knew what they were selling or advertising, the proceeds raised in the carnival would all go to each club for their own specific causes, whether it'd be donating to a charity or helping fund a club event.
Angie Wang, a senior at Dublin High and the president of Interact Club, said that her club raised over $290 in profit.
"I really enjoyed the wide variety of food and dedication all the clubs put in to make the event a success," she said. One of the best parts of the carnival was not making money, but seeing where that money goes. Interact Club took the money they made from selling Chinese food and churros to purchase solar cookers for refugees in Afghanistan. For the years to come, the only thing Wang would change would be to have more people selling drinks.
Matthew Harris, another senior at our school, is the president of Key Club. They raised almost $200, and their primary goal this year is, "to raise more money for Pediatric Trauma Prevention (PTP) and Project Eliminate." This aims to end materials and neonatal tetanus around the world. They sold L&L Hawaiian BBQ in order to be able to do this, and it was definitely a huge success.
"For the future, I would recommend getting more booths for the every-growing number of clubs here at DHS," Harris said when mentioning what to make even better next year. He tells us that Dublin High is becoming more spirited and involved every year, and this is essentially what really makes our carnival such a nice annual event.
As a senior, Harris even concluded with, "I'm glad I got to witness this as my last carnival."