Track and Teach: Ms. Velez Does It All
   Teaching and coaching is a big responsibility.
   When asked how difficult it was, math teacher and Track and Field Coach Lenni Velez said, "It is time-consuming but I can manage my time between my outside grading and my coaching responsibilities."
   Although she started at Dublin High in 2005 as a math teacher, she wanted to add other activities to her schedule such as Track and Field in 2010.
   "I wanted a way to get involved outside of the classroom because I know there is a lot more to our students than academics," said Velez.
   Ever since Coach Chris Williams brought out Ms. Velez in 2010 she's loved coaching and is glad she is a part of the team. Not only is Ms. Velez happy about being involved in Track and Field, the athletes are glad she is there for support.
   "She is a great coach and has helped me in many ways with my technique in practice," said Sophomore Ashley Bruce.
   Even though Coach Velez has never participated in Track and Field, she says that her inexperience has not been a disadvantage but a useful tool in her coaching.
   "I feel like that since I have never done [Track and Field] I get to learn what it's all about. It has actually been a benefit for me," said Velez.
   Her personal coaching style of listening to her athletes helps Ms. Velez connect and understand what her students need in the classroom.
   "I love Ms. Velez, she is a great teacher and helps me when I ask for it," said Freshman Josip Lukin.
   Ms. Velez has learned how to juggle multiple activities at once and she serves as a role model for student-athletes who may struggle with academics and extracurriculars.
   "Ms. Velez is a well-rounded person. Through school and track, she is a great mentor as she teaches you how to balance both at the same time," said Junior Jalen Lockett.
   Although she uses what she learned from teaching and coaching in both the classroom and on the field, she knows that there is a difference between memorizing trigonometry equations and practicing to get the farthest distance in the long jump.
   "I like coaching because there is no grading involved in it. But I like teaching because I like to give students the power of math they do not have and I want to make sure they understand it. It is empowering and I enjoy the struggle of academics," said Velez.
   She has the best of both worlds; with the ability to go from the pencil-wielding teacher Velez to the shouting and motivating Coach Velez.
About the Contributor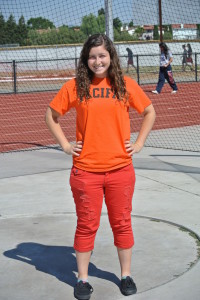 Michelle Goldstein, Copy Editor for Entertainment and Sports
Hey everybody, name is Michelle Goldstein and I am a senior in high school. What I like most about Journalism is being a part of a great team that distributes...