Student Spotlight: Laura McLaren
   Laura McLaren is a junior cheerleader here at Dublin High. She is very involved in many school activities and loves her community very much. Some of the things she is involved in are: singing in the talent show, winning Sophomore Homecoming Princess, and being involved in Leadership.
   April 2nd was Autism Awareness Day. Laura would like to share with Dublin High students her experiences with autism.
   "I first showed signs of autism when I was two years old. I didn't really learn how to speak English early, like when most people do," said Laura.
   At four years old, Laura started school with the diagnosis of autism and took SDC classes until sophomore year.
   "I took SDC classes because of my autism and because I struggled with certain things like a lack of eye contact, speech, lack of awareness, and hardly any social skills," said Laura.
   Now, Laura takes five periods of mainstreamed classes.
   Laura has received a lot of support from her parents and teachers. Also, the schools she has gone to have been supportive and helped her progress a lot.
   "I believe that I can overcome autism by learning new things from my teachers and taking mainstreamed classes," said Laura.
   One of Laura's favorite teachers, Mr. Sollom-Brotherton, said,  "Laura is very excited to be in class, which makes other people excited. The way she loves being here rubs off on everyone which is great."
  Laura has many strengths. Some of Laura's strengths are talking to people about what she wants, having an above average IQ and getting good grades. Laura also has a photogenic memory. She is also able to recognize her weaknesses, which is a really great quality to have.
   "Hopefully my story can help people understand autism a little bit better by hearing about my experience," said Laura.
About the Contributor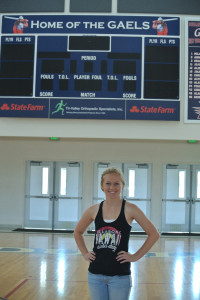 Caitlyn Murray, Distribution Manager
I'm Caitlyn Murray and I am a junior at Dublin High. What I like most about Journalism is being able to let the students at my school know what is going...